M&A activity in the beverage sector:
The activity of this sector has been severely hampered by lockdown and the change towards at home consumption. For obvious reasons, in 2020 we have consumed very little in bars, and that has caused a lot of damage to the wine, spirits, beers, soft drinks, waters and juices sectors. There have been very few operations since lockdown, and those few were of little volume, with the whole sector taking a wait and see stance.
In Spain the beverage sector sells € 20.3 B and, up until 2019, it employed nearly 57,000 people. For a sector of this volume there are only just over 10 large companies with more than 1000 employees. In 2019 the sales ranking would stand with Coca Cola Iberian Partners (€ 2.4 B) at the top, followed by Mahou Group (€ 1.3 B), Damm Group (€ 1.3 B), Heineken (€ 1 B), Hijos de Rivera (€ 531 M), Freixenet (€ 500 M excluding Henkell), Schweppes (€ 427 M), Pepsico (€ 390 M), Pernod Ricard (€ 325 M) and the Murcian juice company AMC Natural Drinks (312 M €). Behind them we find the wineries Solís (€ 260 million), Codorniu (€ 218 million) and Torres (€ 170 million).
This is the agri-food industry with the highest rate of tangible assets over sales, approximately 5.5% each year, which indicates that it is demanding in CAPEX.
Let's see what two listed companies in the sector tell us, with real and objective data, about what happened in 2020: Coca Cola Enterprise Partners Iberia in soft drinks and Barón de Ley in wines.
Since the 1950s we have in Spain a benchmark in beverages and a presence in Horeca with the Coca Cola bottler, which for a few years now has been part of the listed company that unites bottlers of the rest of Europe.
The activity of this company is noteworthy, as a leader in this sector, and can give us a guideline. It accounts for 12% of sales in the beverage sector in Spain.
The sales of the listed company in the period September 2019 - September 2020 fell 12% (from € 9.1 B to € 8 B) whereas in Spain they fell 23%, a drop twice as drastic (from € 2,1 B to € 1.65 B), which reveals a much greater impact in our country than in the rest of Europe. If we only take into account the typical HORECA references, i.e. glass, the impact is 34%, which will translate for sure from December 2019 to December 2020 in more than 50%. A real catastrophe in terms of sales.
Baron de Ley, another listed company, albeit this one in wines, shows smaller drops, with a fall from September 2019 to September 2020 of -5%, going from € 67.7 M to € 64.3 M. Export has been the salvation for this company. But the drop in sales in HORECA is more than 30%, once again in the absence of the December 2019-December 2020 data, which will be worse since they will be adding another bad quarter.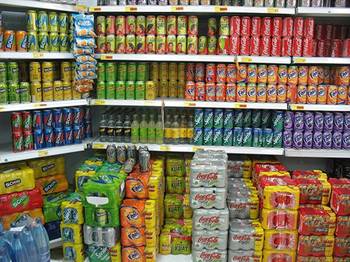 All the above serves only to confirm what we already suspected:
The value chain in the beverage sector is severely eroded due to its dependence on the Spanish HORECA.
This sector faces problems at all levels. There are problems with the end customer since, as we saw in the first article, more than 100,000 bars and restaurants are disappearing and the consumption in those that remain in business is decreasing. There are problems with the distributors, which have seen their activity drop and must keep their staff in ERTE, many times enduring defaults of the retail chains they used to serve without endorsement, with payment terms to suppliers longer than usual and policies of consignment sales. And there will be serious problems with producers (be it wine, beer or carbonated beverages producers), which find themselves forced to resort to their reserves, make capital increases or even disappear due to the historically high CAPEX and lack of demand.
In addition, the number of zombie companies along the entire production and distribution chain seriously jeopardizes the continuity of many companies, pending important milestones that may aggravate the issue, such as the imminent end of the extension of the moratorium bankruptcy. The Covid loan repayment extension granted will only mean that many companies will die a slow death, given that the vaccination schedule does not seem enough to lift, in the short term, the restrictions set for the hospitality businesses.
Only those companies with a very important weight in the at home consumption and / or with high export quotas which allowed them to balance the sales mix will be saved.
However, and against all odds, the Cobega Group, an expert like no other in the beverage sector and owner (through Olive Partners) of 35% of the aforementioned CCEB, has just acquired a distributor specialized in the sale of references for hospitality and food. We are talking about the Cantabrian Argumosa, with a turnover of around € 8.5 million and with 5,500 m2 facilities. This acquisition bucks the current catastrophic trend of the beverage sector in HORECA.
Such an acquisition gives us food for thought. Maybe it is time for well-financed leaders with a long-term vision to continue putting their faith on their business while waiting for better times, for a concentration of the sector and the disappearance of the small players. In other words: when this ends, we will continue going to bars, consuming soft drinks, wine and beers. The problem is that many businesses will not make it.
---